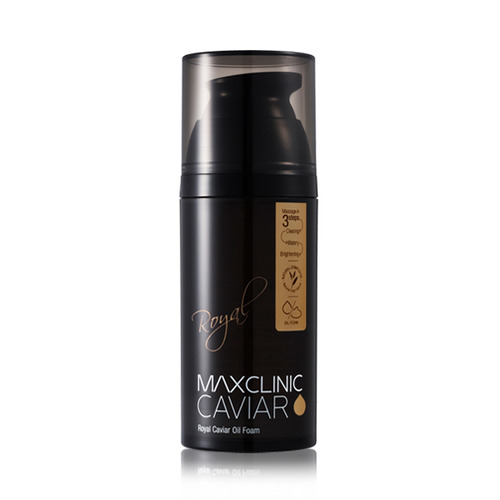 [Product Description]
[12 Million bottles sold in Korea/ MAXCLINIC Royal Caviar Oil Foam]
This is a popular product widely used and loved by Koreans.

[Product Features]
[Cleanser/whitening, wrinkle improvement functional cosmetics]
Through oil foam cleansing in the first stage and bubble foam cleansing in the second stage, deep moisturizing ingredients such as caviar oil, honey, royal jelly, and propolis moisturize dry skin and exfoliates waste smoothly.
This product also serves as a makeup cleanser.
[Product Specification]
Volume: 110g
Main Ingredients:
Olive Oil, Jojoba Seed Oil, Royal Jelly Extract, Propolis Extract, Black Sesame Extract, Honey, Caviar Extract (1000ppm), Caviar Oil (30ppm)

[Product Others]
Marketing Authorization Holder: N&B LAB Co., Ltd. / Manufacturer: Hankook Cosmetics Co., Ltd.
Expiration Date: Marked Separately Until Year/Month/Date (Product life: 30 months)
How to Use: Apply a moderate amount on the face, either bare or with make up, then massage the face along the texture of the skin. After foaming, massage the face and rinse off with lukewarm water.